The DIY Punk & Hardcore Movement (Circa 2011)
Bonjour, bienvenue, et wilkommen to the latest instalment of what at least one of us is calling 'The DIY Punk & Hardcore Movement':
http://art4punks.blogspot.com/
See what I did there? Yup, that's right, I evidenced! I know some of you think I make all this shit up as I go along, but hey, life's pretty fast, sometimes you gotta to stop and take a look around.
Any road up, another busy month grubbing about in the margins has proved fruitful, once again. We've been to Birmingham, to visit Rich Perri at Ignite Records, deep in the bowels of the retail warren known as Oasis. Rich has been having a few problems with ex-squaddies under the influence of psychotropic substances recently, even had to shut up early one day when said squaddie persistently threatened to 'make it all go dark'. On the crimewatch front, there's been a spate of Black Veil Brides (fuck awful haircut band, big with the dumb kids) sleeve robberies, one of the major pitfalls of running a record shop. The bad record police have been informed. Rich has also been busy with his Speedowax Records imprint, and has just dropped the new artefact by Human Hands, to much applause:
http://www.collective-zine.co.uk/reviews/?id=8111&fb_comment_id=fbc_10150260041299708_17566429_10150260451049708#fc3ee2c695633e
We've also been to that London, once again, but this time not on the train. Outside, you see, the trains have not been running on time. They've been cleaning the rails, or something. My sister took the train to that London a few days before we set off, and what with busses, changes at High Wycombe, and massive delays at every turn, we didn't fancy a 7-hour round trip, and elected to drive instead (petrol: £25 versus train/tube: £60 – go figure which way we'll be travelling from now on).
As we set off, the weather began its impression of the end of days: rain, sleet, suicide badgers (they've heard about the impending cull and are taking matter into their own paws), and starling excrement-filled incendiaries hurled themselves at the intrepid VW Fox (hubcaps removed to make it look like a French drug squad vehicle), imploring us to turn back, to give in, to go buy CDs at HMV instead. Unperturbed, we forged onwards, capital-bound, and were soon edging through the traffic at snail's pace, relieved not to be paying the congestion charge on a weekend. Camden was soaking on arrival, but packed with shoppers/tourists, none the less. Steam rose from drenched Pac-A-Macs, umbrellas threatened every passing eye. We parked up adjacent to All Ages Records, Rachel installed herself in the coffee shop next door, while I began digging through the crates (Over 1 hr total shopping time).
Many of the gems gleaming below were captured here, along with the latest couple of issues of the 'still-essential-after-all-these-years' periodical, Maximum Rock'N'Roll.
FyFan – Ingen Framtid For Alltid (No Way Records)
Malmo-based, four-piece hardcore punk outfit, stuffed with raging existential angst by a particularly skilful taxidermist. Six tracks of furious and righteous anger, veering deathwards, pummelling down hard. No song longer than a minute-and-a-half, it's all over in under  seven minutes. Place this next to Brain Killer in your collection, and ensure you minimize the fallout from the sleeve image. Protest and survive! 
Ydinperhe – Ydinperhe (Oy Kaupalliset Levyt Ab)
Helsinki-homed, hardcore punkers ( two girls, two boys), who stand atop a diving board labelled 'Minor Threat', and hurl themselves into the swirling abyss of 30-years of hardcore punk evolution seething below. Twin-sex vocals, crunchy guitars, mentalist drumming, and enough energy to provide an alternative power source for Finland. Black Flag, Kleenex and Metal Urbain all rolled into one fat bifter, and fired up into the future. 
Iceage – New Brigade (What's Your Rupture?)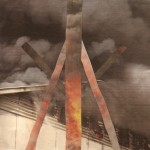 Denmark has proved revelatory of late: first the long winter Saturday nights spent engrossed in The Killing, followed by long spring weekday nights spent engrossed in DVD replays of The Killing, followed by tepid summer evenings spent buried in Danish crime novels . . . and now, Iceage.
Impossibly young, improbably good, and impeccably marketed, Iceage transcend the hype to deliver what is a truly stunning debut long player. From their hometown of Copenhagen, Iceage have set out to conquer the known world, and, from where I'm sitting, right here, right now, they're doing a marvellous job!
New Brigade delivers 12 songs destined to echo long into the future. The evolutionary history of punk junk is jumbled here, embedded within these very grooves. I can feel Wire, I can hear a young Robert Smith in the vocals, I can smell Joy Division, I am setting the controls for the heart of 1980! Are you going to tag along for the ride?
Chronic Sick – Reagan Bands & Cutest Band In Hardcore EP (No Way Records)
Sent forwards in time from 1982, Chronic Sick are a KBD-appreciators wet dream on toast. Just check out the sleeve to the Cutest Band In Hardcore EP! A swastika on the forehead? A drummer in spandex? Lipstick writing on bare chests? Moustaches? Now we know where Jack White gets all his ideas from.
This one comes from an ideologically fragile, distant past, long before the concept of co-ordinated image construction had been fully developed. Reagan Bands is their one truly essential moment, a 100% genuine, raging punk rock slab, but the 12" EP is bloody good fun too. The music is still not quite sure if it's as punk rock as the look the band are desperate to convey, but don't let that put you off. Personally, I love the way these obscure gems float to the top like turds in a sewer years after the fact. Conclusion: it's on No Way Records, dudes! Get with the program.
Smart Cops – Per Proteggere E Servire (Sorry State Records)
Taking their cue from aggressive 1980s hardcore, Italy's Smart Cops have gone all tuneful, gone into a big studio, and recorded this big-sounding, tune-adorned, big vinyl thing. The production adds layers of gloss to the band's sound, and they've been polishing their songwriting skills accordingly, but don't let that adversely affect your expectations of what is a mighty album. The front cover depicts them as heirs to Crime's throne in the black leather department, and the rear sleeve contains the winning instruction: 'Remove wax disc from jacket. Place on turntable and adjust treble, bass and volume. Turn on. Caution: Keep away from the old at heart'.
The Shitty Limits – Speculate/Accumulate (La Vida Es Un Mus)
This is, sadly, the last record we'll ever get from the Shitty Limits, which is a dog-gone shame. Thankfully, it's not the end of the rainbow, as the band have fragmented into various subsequent outfits that are bound to be worrying the scorers in due course. Meanwhile, back at the finale, Speculate/Accumulate provides 6-further slabs of exactly what we've come to respect and admire from The Shitty Limits. For those of you who have discovered and enjoyed Tyvek, The Shitty Limits will tick all the prerequisite boxes. Highly recommended.
The Spastic Panthers/Throwaways (Handsome Dan Records)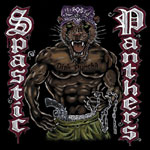 The Spastic Panthers/Teenage Rampage (Handsome Dan Records)
The Spastic Panthers – Rock & Roll Beasts (Handsome Dan Records)
The Spastic Panthers deserve to be owned for their name alone. Along with the similarly excellently monikered Diet Cokeheads and the Useless Eaters, The Spastic Panthers are teenagers in a hurry. Get that Zimmer frame outta here, granddad, there's a punk rock party going down, and you're way too old to be invited!
What we have here are two splits and a four-track EP: The Spastic Panthers are hardcore as fuck, spewing out all the usual influences in a rainbow of organic punk puke that convinces and threatens where Cerebral Ballzy merely perplex. Teenage Rampage are on a mission, too. Their contributions tower on an equal footing to those of the Panthers, but with slightly more metallic fatigue. The Throwaways, meanwhile, are a three girl/one boy combo who tear punk pop a new one with maximum glee. All these priceless jewels are available on various shades of wax from the indispensable Handsome Dan Records, with mp3 download codes to boot. It'd be rude not too, wouldn't it?  
Something Fierce – 'Where Ya Goin Man?' b/w 'Spray Coat' (Action Town)
I bought this ostensibly for the b-side, 'Spray Coat', which I've owned for a while on mp3, but just had to get on vinyl. Spray Coat is one of the finest minutes out there in DIY punk and hardcore land, mainly due to the orgasmic guitar solo that explodes at the end of the song. I've always been a sucker for energy laden guitar solos, and this one is up there with the best. I ranted on about the band's latest LP, 'Don't Be So Cruel' (Dirtnap Records), a few columns ago, and anyone who invested in that should track down a copy of this 45 too. BTW, the a-side is no slouch either.
Rare Peel – Discs 1-4 (Bootleg)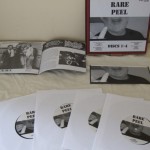 And finally … four slabs of vinyl in a pizza box? Yup, that's right, Rare Peel – Discs 1-4 collects four John Peel sessions from the halcyon days of first wave punk from the Models, the Drones, the Cortinas and the Crabs (I know, I'd forgotten all about them too!).
Obviously a bootleg, but a nice item nonetheless. You get 'Man Of The Year', 'Freeze' and 'Defiant Pose', amongst others, a 16-page booklet rammed with memorabilia, and all the records are labelled incorrectly! The fidelity leaves much to be desired, there are spelling mistakes akimbo, and the whole package feels as if it were put together by a boy scout with only a 'box-set compiler' badge to his name. The man himself would have loved this, and you should too.
NB: I bought my copy from All Ages Records for £14.99, but that doesn't mean they are responsible for it, or the ones to go after if you're Marco Pirroni, or some other ancient dude considering legal action. Drop them an email, they may be able to point you in the general direction of the reprobates who bootlegged this. They may even have more copies for sale.